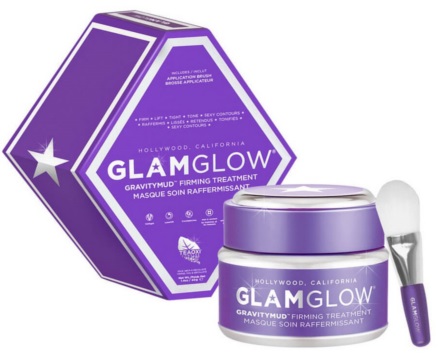 Crow's feet are becoming more visible? You cannot stand the look of wrinkles around the mouth? Your cheeks are not as firm as they used to be? Do not worry! GlamGlow brand will help you regain youthful and flawless appearance. Just try the new firming mask Gravitymud Firming Treatment.
Where did the wrinkles come from?
Crow's feet, lion's wrinkle, facial lines are probably one of the biggest problems of many women. Many factors have influence on their appearance. Most common are: genetics, stress, eating too small amount of vitamins and microelements, drinking alcohol, smoking cigarettes, lack of sunscreen and improper care. Wrinkles also appear when the skin is not hydrated enough. If you are not using moisturisingand not in consume the appropriate dose of still water per day, sooner or later you will see a deepening wrinkles and darkening pigmentation. In Addition, collagen fibers are weaker and the face shape becomes less firm. What can you do to prolong your young look and to enjoy a beautiful and smooth face?
GlamGlow Gravitymud Firming Treatment is your remedy.
Glamglow brand knows exactly what every woman should do to get rid of wrinkles. Therefore, a new firming mask called Gravitymud Firming Treatment has just hit the market. The cosmetic is recommended for all skin types, especially mature skin. The product takes care of the skin on the face, neck and décolleté. Moisturises, evens and smooths fine wrinkles. What is more, the mask also brightens pigmentation, promotes the production of collagen and elastin, nourishes and rejuvenates. Thanks to the natural ingredients, including algae and hyaluronic acid, tremendous effects are visible only after the first few applications.
How to use GlamGlow Gravitymud Firming Treatment.
Glamglow Firming mask must be applied to freshly cleansed face and neck, avoiding the area around the eyebrows and hair. Thanks to the soft brush bristles the application process is much easier and pleasant. Leave it on for about thirty minutes. Once it is completely dry, gently peel it off from edges. Any remains that are left on the skin, wash off with warm water. It is advised to use the cosmetic twice a week. Remember that after each application you must wash the brush thoroughly and leave it aside to dry.