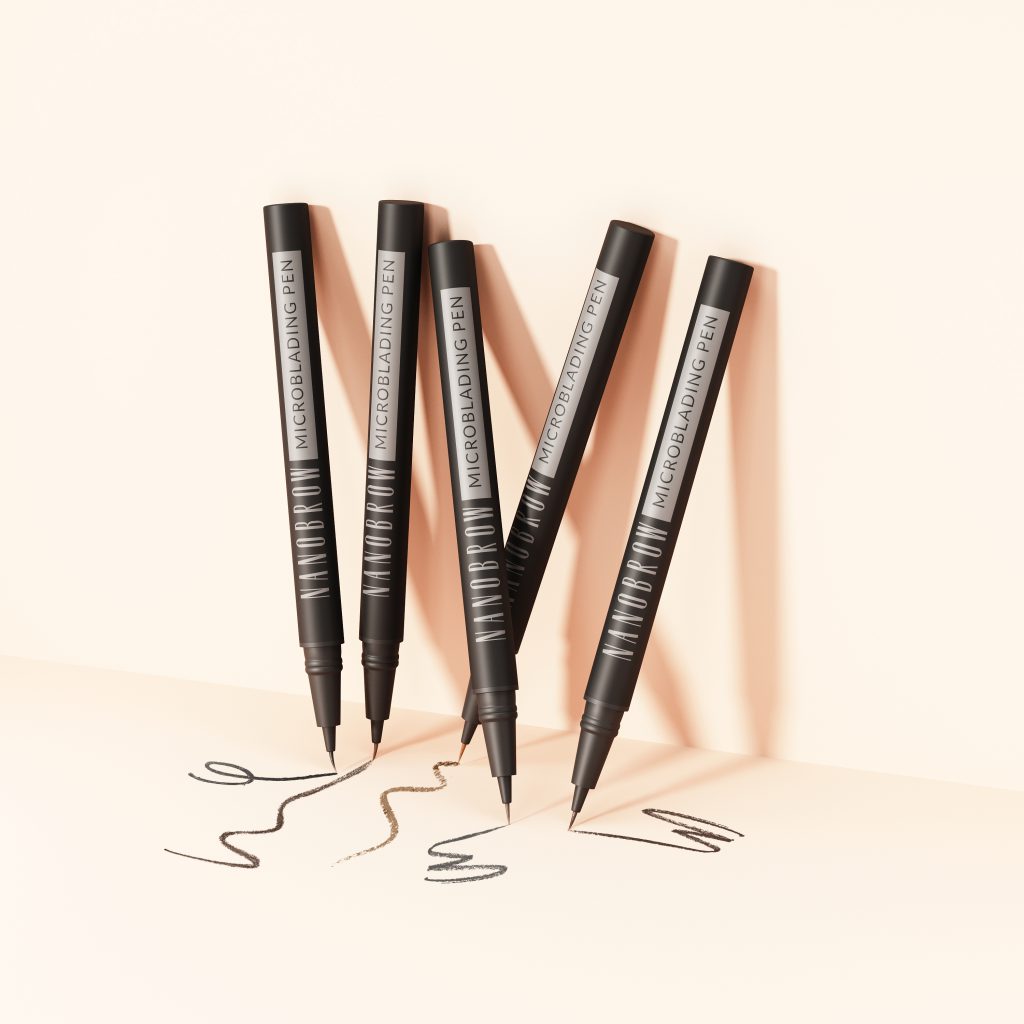 An extremely precise, waterproof, and easy-to-apply brow pen that allows you to fill in sparse eyebrows and create a three-dimensional mimicking microblading. Discover Nanobrow Microblading Pen!
The Nanobrow brow pen – create precise brow makeup that looks just like microblading!
The Nanobrow brow pen with microblading effect is a daily brow-styling product. It looks like a regular pen with a thin tip, allowing you to create hair-like strokes with great precision. It contains waterproof, intensely pigmented ink that ensures your makeup stays put for a long time. The Nanobrow eyebrow pen is an extremely popular brow makeup tool, especially among owners of thin, sparse, or fair brows who want a natural-looking effect. It is easy to use and ensures precise touch-ups, making it an ideal choice even for brow makeup beginners. Many professionals consider the Nanobrow brow pen one of the most useful eyebrow-styling products.
Eyebrow microblading – is the procedure worth it?
Microblading, or the feathering method, is a type of semi-permanent eyebrow makeup, which involves depositing pigment under the skin using a disposable tool. Eyebrow microblading is performed by a professional using a special needle, or a feather-thin tool to make small incisions in the skin to insert the pigment underneath, creating fine and natural-looking hair-like strokes.
The effect is semi-permanent and can last up to 1.5 years. The technique ensures a precise eyebrow shape, which is especially important for those who want to hide sparse areas, scars, or age-related changes.
The microblading procedure takes about 2-3 hours, before the procedure the eyebrow area is anesthetized. The effects of microblading are visible immediately, but you need to wait 2-3 weeks for the full effect when the skin has completely healed. It is not uncommon for touch-ups to be necessary, as the healing process can "absorb" the pigment, making the brows look uneven and making sparse areas even more noticeable.
What if we like the effect of microbladed brows, but do not want to opt for such an invasive procedure? Here's where the precision Nanobrow brow pen comes to the rescue as it was designed o replace microblading. Here's what you need to know about it!
Eyebrow pen with microblading effect – the problem of sparse eyebrows is solved!
Brow makeup with a pen is an innovative and long-wear method of giving brows a thicker look without the need to visit a specialist. Thanks to the Nanobrow brow pen:
You can create an exceptionally natural brow look. The fine, precise lines perfectly mimic real brow hairs, making your brows look super realistic and three-dimensional.
You'll save time on touch-ups throughout the day and save money on the semi-permanent brow makeup procedure.
You can create long-wear and waterproof makeup. Thanks to the intense pigmentation, you can build up the coverage, and the specially designed tip allows you to not only fill in gaps but also to define and shape your arches.
You will feel more confident, and your look will gain definition. Eyebrows are an incredibly important feature of the face, which affects its overall appearance and proportions, so they must have the right shape, thickness, and color.
Nanobrow Microblading Pen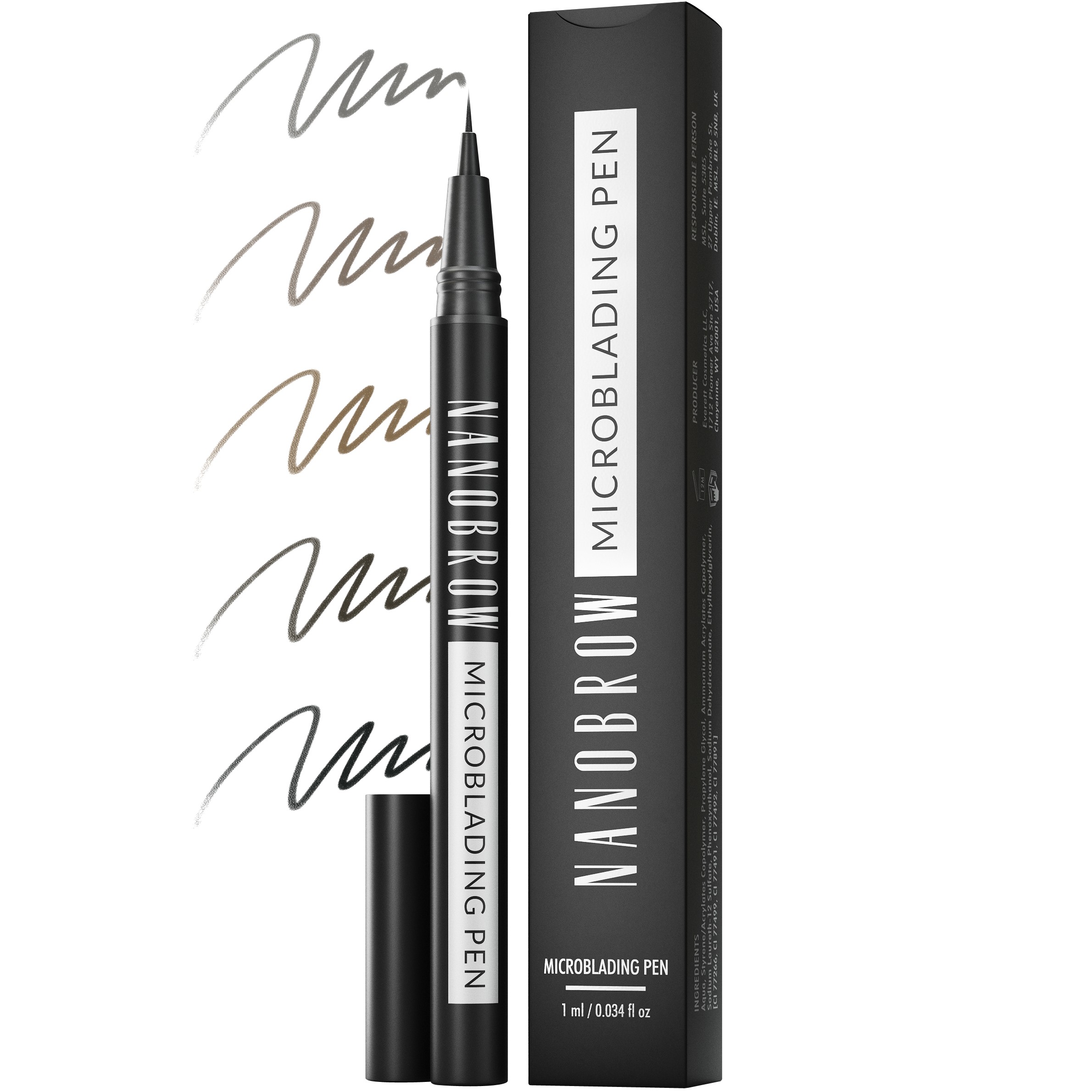 Product available in colors:
How to fill in the brows with a pen?
Make sure your skin and eyebrows are clean and dry. Brush them with a spoolie or a brow comb do give them the right shape
Choose the right shade that matches the color of your natural eyebrow hairs best. You can check the color on your wrist first to make sure it's a good match.
Start by defining the bottom brow line. Fill in the gaps by creating thin lines that mimic natural brow hairs.
Position the tip of the pen perpendicular to the eyebrows. Using short strokes, draw hair-like strokes following the natural direction of hair growth. If you are not skilled, you can practice it first, for example, on the palm of your hand. You can always wash off the imperfections with a regular makeup remover and do touch-ups.
Make sure that the middle part and the tail are slightly darker than the inner brow edge (near the nose). This will create a smooth transition and you will avoid an overdrawn effect.
Finally, set your eyebrows with a transparent or tinted brow gel, which helps keep your brows in place throughout the day.
Ding your brows with the Nanobrow brow pen is a simple and precise way to create natural yet glamorous brow makeup. Not sure where to buy Nanobrow Microblading Pen? Take a look at nanobrow.us and discover the full range of Nanobrow professional brow styling products.