Hair oil tested by the professionals – sounds promising. What is really like Haarol Oil Care from Isana Professional? It was created for damaged and dry hair. On top of that, was enriched with oil complex, including argan and sunflower oil. It is surely worth to test it and most of all read a bit more about it.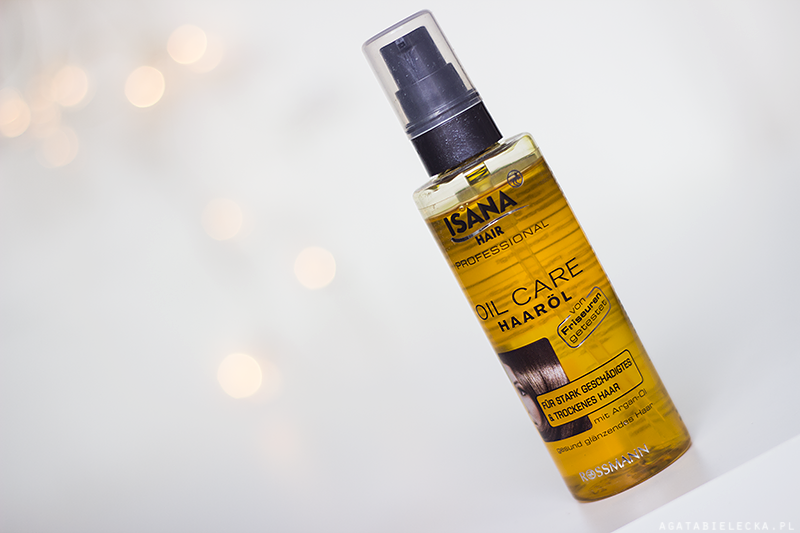 What do we expect from hair care product for damaged and dry hair? Hair oil should most of all have friendly composition, convenient packaging, easy use and complex action. Is that what Isana Professional Oil Care Haarol has to offer?
Isana Oil Care Haarol and friendly composition
Beside preservative and one potentially clogging substance Isana Professional Oil Care is a hair oil with really great composition. Sunflower and argan oil are present in large amount, so you can say that thanks to them the composition is much better. Curious thing about hair oil is that sunflower oil is present in two forms – traditional and the one obtained from the hybrid seed strain of sunflower with much higher concentration of oleic acid. As it was said many times before, oleic acid is an essential substance for hair.
Isana Oil Care Haarol and convenient packaging
On the subject of hair serum Isana Professional can be said only good things. Hair oil has 100 ml/3.4 oz volume, so it is very handy. Plastic bottle lies great in hand, has great quality and pump applicator makes use very easy. Despite small volume Isana Oil Care Haarol is very efficient.
Isana Oil Care Haarol and easy use
Hair oil Isana Professional should be used just like other products with similar specification. There is rather no surprise. Isana oil with amber colour smells very pleasing, though you can sense some alcohol in it. Unfortunately, Oil Care Haarol is quite thick and can weight hair down if not used moderately.
Isana Oil Care Haarol and complex action
What does Isana Haarol have to offer? Fast absorbing hair oil Isana Professional takes care of hair beauty on the inside out. It regenerates, nourishes and strengthens hair bulbs. Furthermore, oil is expected to deal with the most damaged and dry hair, but do not bet on it. As any product, also this one can provide all sorts of various effects on hair.
Sadly, Isana Haarol is a German product and can be difficult to obtain in other countries. The only possibility to buy it concerns the Internet shops.