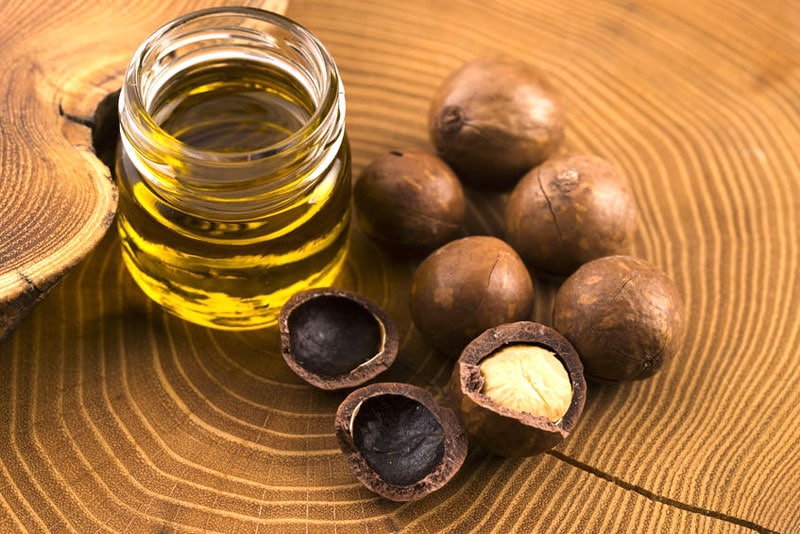 The cosmetic Houdini is the on-point nickname for macadamia oil. What do I mean? Why is it so unusual and compared to the legendary illusionist?
This oil turns out to be traceless. It is quickly absorbed both in the skin and hair, leaving no residue. The only proof of using it is beautiful, nourished, shiny hair and healthy, smooth skin. What happens inside your hair when this cosmetic magician gets inside? Is macadamia oil worth using in hair care routine? What do reviews say? Here are the key facts on macadamia oil.
Macadamia oil is extracted from small, round, edible nuts which are said to be the sweetest in the world. They have a high-fat content (50%-78%). The extraction process runs quite smoothly. The oil must be cold-pressed to keep its value and abound in precious vitamins and fatty acids.
Macadamia Oil INCI: Macadamia Ternifolia Seed Oil
Macadamia oil is extremely effective in hair care – its structure is similar to the structure of human cells and that's why it is fast-absorbing, fitting the skin and hair structure to fix the damage. This is the reason why macadamia oil is among the top-selling oils and a common ingredient in hair balms and conditioners and anti-aging creams.
Sweet nut macadamia oil is like a vitamin bomb for the hair. It contains a rejuvenating vitamin A, a full set of vitamins B (B1, B2, B3) as well as the vitamin of youth – E which has strong antioxidant properties. It owes its cosmetic benefits to lecithin, phenols and minerals, too. The diversity of unsaturated fatty acids (omega-9 oleic and omega-6 linoleic) makes it a perfect oil for both medium and high porosity hair.
Macadamia oil – cosmetic uses
For beauty purposes, the most precious form of macadamia nut oil is used – unrefined and – as mentioned before – cold-pressed.
Applied to the skin, it helps treat scars and irritations, soothes the symptoms of too much sun exposure. It is an excellent remedy for all skin problems thanks to the biocompatibility with the human skin. If you apply it to the face skin, it works like an intensive serum with rich ingredients and amazing nourishing benefits. It is like a vitamin cocktail which is instantly-absorbed, deeply nourishing both the skin and hair.
Macadamia oil for hair – application
You simply apply it to dry hair and scalp, and wash it off precisely with a shampoo after 15 or 30 minutes. You can leave macadamia oil overnight and rinse it out in the morning. You may spread it on dry or damp strands. Massage a bit of the oil to dry hair ends and leave it in, protecting them from damage.
Macadamia oil – hair benefits
keeps hair and scalp moisturised
protects against hair dryness and damage
tames flyaways
adds intense shine
macadamia is a light oil which doesn't weigh hair down
it is ideal for enriching masks and conditioners
improves skin and hair elasticity
penetrates the hair, repairing damaged internal structures
provides hair with regeneration, closes cuticle scales
controls the sebum secretion and doesn't cause oiliness
it is a great ingredient in blends of several oils
If you use macadamia oil for a regular hair and scalp oil treatment, it will give your hair shine, moisture and protection, saving it from the heat-styling damage (hot airflow of dryers, flat irons, other harmful factors e.g. toxins, minus temps, strong sunlight).
Macadamia oil for hair – reviews
There is a reason why macadamia oil is among the most popular oils on blogs. Thanks to unique properties and good absorption, it is a favorite of hair care maniacs, vloggers and hairstylists. Macadamia oil gets best opinions as a treatment for over-processed hair. Mixing it with other oils or adding it to masks and balms is a great idea.
Macadamia oil – price
In comparison to other natural oils, macadamia nut oil isn't expensive. This feature definitely adds to its popularity.