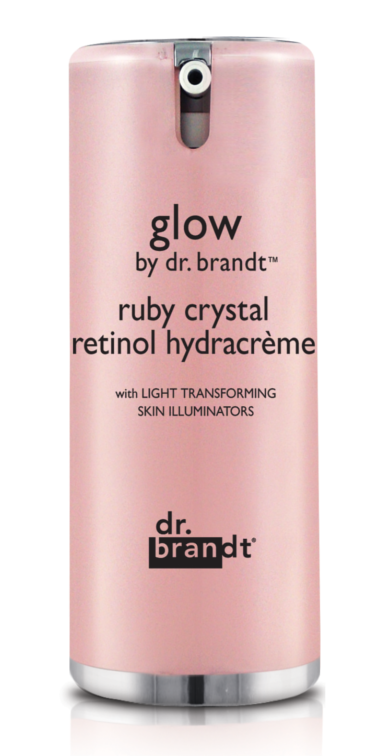 Dull and tired skin, blemishes, wrinkles, dry skin. These are the most frequently mentioned problems, which both, women of mature age and young girls, have to deal with. Fortunately, here comes the help. Cosmetic range from dr. Brandt is the remedy for most facial skin problems. Let us present a brightening and moisturising cream – Ruby Crystal Retinol Hydracreme.
If your diet is low in nutrients and you tend to forget about an appropriate care, the condition of your skin will worsen each day. Eventually, more and more wrinkles, pigmentations and other imperfections will appear. Does your complexion lack of radiance, looks dull and tired and everyone around you think that you are sick? What to do in such situation? First and foremost, instantly change your lifestyle. Begin with introducing more vitamin and microelement – enriched foods into your diet, drink at least one litre of water each day and start working out. Additionally, you might as well think of taking a time off for a few days somewhere outside the city. What is more, it is a great idea to treat yourself with a visit at a beauty salon. A professional skin care treatment, even only once a month, will make a huge difference. However, you cannot forget about your daily care at home. Ruby Crystal Retinol Hydracreme from dr. Brandt will be the best help with your home treatments.
What properties does the product provide? This facial cream reduces fine lines, brightens discolourations, evens skin tone, softens and deeply hydrates the skin. It contains shimmering and light-reflecting particles that provide the skin with a natural glow, reduce the visibility of wrinkles and shadows under the eyes. Moreover, retinol contained in the cream accelerates the regeneration of the skin, smooths the skin's surface and reduces imperfections. Sunflower oil provides hydration and nourishes your skin.
How to use Ruby Crystal Retinol Hydracreme from dr. Brandt? First of all, the cosmetic must be applied every morning on a thoroughly cleansed face. It is extremely important to remember about applying sunscreen. You cannot omit this step due to the fact that retinol has the effect of photosensitisation. The reaction of the substance to UV radiation may result in strong irritation. What is more, the cream packaging is equipped with user-friendly applicator resembling a pump.