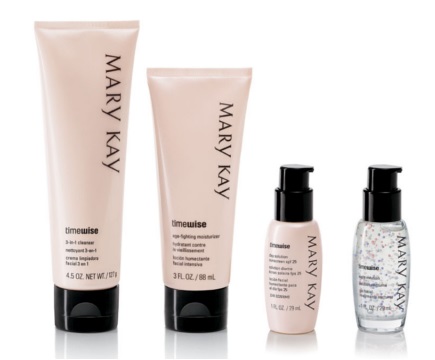 Mary Kay creates professional cosmetics designed for face and body skin care. The products fight the wrinkles, remove the discolouration and smooth the skin. This is how the TimeWise Set works. See it for yourself.
Mary Kay TimeWise Set includes: 3-In-1 Cleanser, Age-Fighting Moisturizer, Day Solution SPF 30 and Night Solution. All cosmetics are closed in charming silver and pink containers. They are recommended for mature, dehydrated skin with imperfections.
3-In-1 Cleanser hinders premature skin aging, smooths the wrinkles and removes the discolouration. What is more, it has cleansing, exfoliating and refreshing properties. The consistency of the cosmetic resembles a gel with abrasives. The product should be used twice a week, in the morning and in the evening. It perfectly removes dead skin cells, smooths the surface of the skin and deeply moisturizes. Unpleasant fragrance is its only drawback.
Mary Kay Age-Fighting Moisturizer contains humectants and antioxidants. These ingredients slow down the aging processes of the skin, protect the complexion from the damaging action of UV radiation, environmental pollution and other external factors. They eliminate free radicals which have a negative influence on our skin. Thanks to TimeWise Moisturizer, the complexion restores natural shine and smoothness, it is moisturized and firm. Additionally, the cosmetic regulates functioning of sebaceous glands and reduces the shine in the T zone.
Day Solution SPF 30 is another cosmetic included in Mary Kay Set. It protects from the sun and the occurrence of discolouration and wrinkles. Interestingly, it reverses the effects of photoaging of the skin, smooths and moisturizes. It doesn't make your skin look white and if you apply the minimum amount, it is absorbed quickly. The product is a great make up base. TimeWise Night Solution stimulates the production of collagen, firms and smooths the skin. It also has soothing, nourishing and moisturizing properties.