What is the best solution to repair frazzled hair? What to put on over-processed hair to restore health and bring back the full-looking mane? Does every single regenerative mask for damaged hair works in the same way? The answers to these questions and explanations to other issues related to damage hair care can be found below.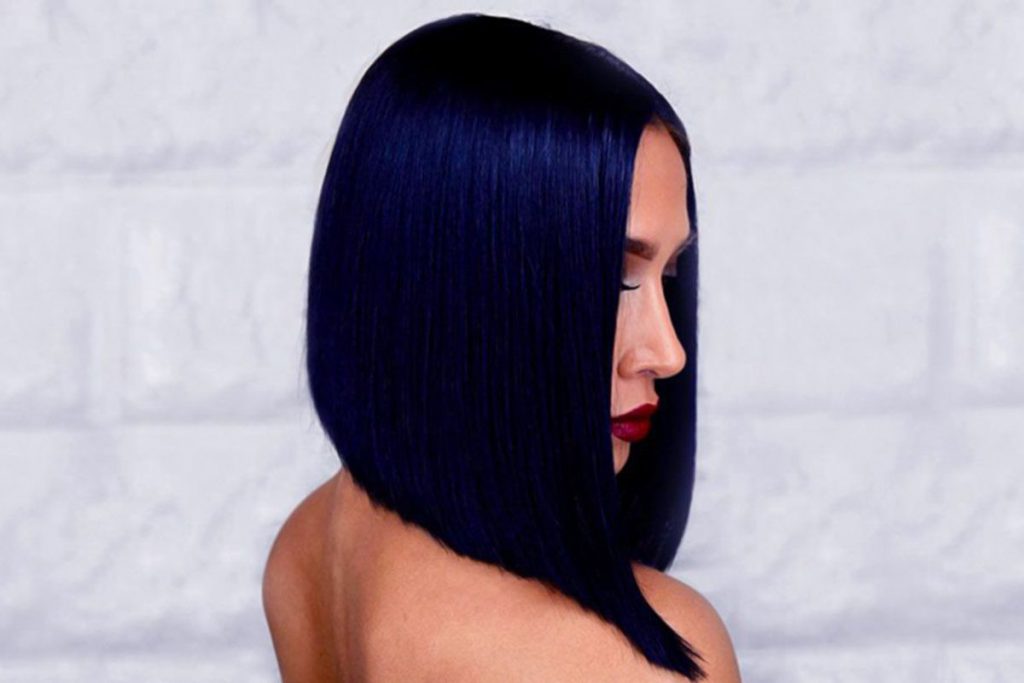 Sometimes you can't avoid harming your hair. There are situations when strands get weaker because of their susceptibility to damage, which is written in our genes. Other times it's the result of a disease that you're currently suffering from. Most times, however, we and our wrongdoings result in hair damage.
What Are the Major Causes of Hair Damage?
Lack of the essential moisturizing and nourishing treatments, no adequate hair care.
Bad hair drying habits, e.g. using high heat setting on a blow-dryer.
Burning hair with a flat iron or curling wand.
Pulling on hair while combing and detangling.
Sleeping with wet and loose hair.
Arranging hair in tight hairdos.
No sun / UV protection.
Following an unhealthy diet, which results in vitamin and mineral deficiencies.
Ways To Save Damaged Hair Without A Salon Visit
The good news is that even though you couldn't prevent some types of damage, there are still many ways for you to save fatigued strands. For a start, it's suggested eliminating every factor that makes hair weaker, and this includes cutting down on flat iron and treating hair in a more delicate way. Naturally, using the right hair products, retaining moisture in hair (not only with cosmetics but also by drinking plenty of water) and sun protection are other essential issues. Once you start paying attention to your hair's needs, meaning when you stop contributing to its damage, you automatically make the repair more efficacious.
Hair repair process can be carried out in many various ways. For example, you can visit a hairdresser to ask for Olaplex – a bond building treatment, or semi-permanent hair straightening known as keratin treatment; whose main task is to straighten the hair (the effect of sleek hair is secondary). You can also make use of home remedies for damaged hair such as regenerative masks that have capabilities to fix the damage inside the hair.
The Best Mask for Damaged Hair
What works for reviving damaged hair? Proteins! The best regenerative hair mask is a mask rich in proteins that are essential for maintaining healthy hair. These substances are able to reconstruct hair, part by part. Interestingly, they are irreplaceable because it is protein – keratin specifically – that hair is built of. The conclusion is simple: if you're looking for a cost-effective mask for damaged hair, reach for a keratin-rich protein hair mask.
Remember that a good keratin mask for damaged hair:
Should be formulated with hydrolyzed keratin whose molecules are smaller thus able to penetrate deeper.
Must have a short, simple and well-developed formula that is dominated by ingredients responsible for repairing and retaining moisture, not preservatives.
Should have a lightweight texture because weighing brittle hair down with a heavy mask isn't a good idea.
TOP 6. Keratin Hair Masks
When it comes to keratin hair masks, it's advised to reach for proven products whose quality and effectiveness are confirmed by positive reviews. Below you will find the offerings that with no fear you can reach for – arranged from the best one to good.
1. NANOIL KERATIN HAIR MASK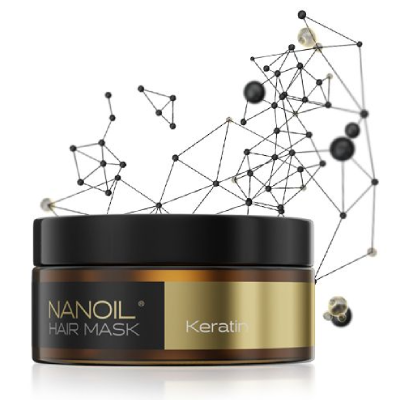 Number 1 among keratin hair masks. You will fall in love with it for its weightless, pudding-like texture and amazing aroma that lingers on hair long after the treatment. Obviously, the benefits it has for hair are the most important. Nanoil keratin hair mask is an exceptionally effective regenerative mask because it contains hydrolyzed proteins combined with a deeply moisturizing and nourishing panthenol (provitamin B5). After a single use, the product flattens cuticles, revealing strands that are easier to style and comb. Moreover, Nanoil Keratin Hair Mask protects hair from damage, day by day restoring the lost shine. As for the effects, this game-changing keratin mask is a good choice for dry, damaged, brittle, frizzy hair with split ends. At no time does it restore water to hair, strengthen, prevent thinning, improve resilience and shield hair ends. Undoubtedly, Nanoil Keratin Hair Mask is a perfect product for over-processed hair, that delivers quick and long-lasting effects. And the best bit is that it's incredibly easy to use.
2. GLOBAL KERATIN DEEP CONDITIONER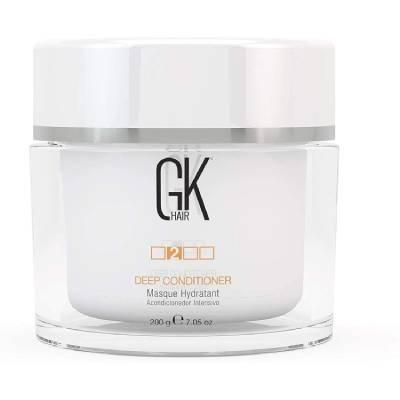 Even though the name doesn't suggest that this is a hair mask, this product definitely deserves some recognition. On one hand it costs more and has less product, but it offers deep nourishment, moisturizing and strengthening, and these effects are owed to keratin. After taking a closer look at the list of ingredients, you will see that there are more substances – apart from keratin – that are incorporated into the formula to ensure hair repair. One of them is – Juvexin – is a blend of vitamins and peptides created specially for damaged hair. That being said, it's worth applying Global Keratin Deep Conditioner to weak, dull and static hair. Perhaps it won't give you as fast effects as a hair mask, neither will it target a few hair problems at the same time, but this is one of the best hair conditioners that you can use to treat frazzled stands.
3. GOLDWELL KERASILK CONTROL MASK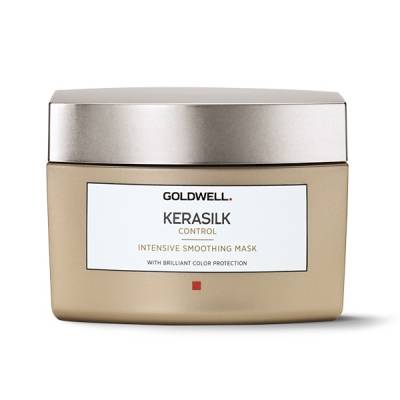 The round-up of the best keratin hair masks wouldn't be complete if it missed an offering from Goldwell – a professional hair brand known all over the globe. The product they market for people struggling with thinning, damaged, dull and brittle hair is this mask formulated with keratin and liquid silk. Combining these two forms of protein makes a really good idea because it allows the mask to offer a greater efficacy from the very first use. Despite being good at leaving hair stronger, this mask comes in a small size which isn't budget-friendly. That being said, if you want the treatment to last long and give you viable effects, Goldwell Kerasilk Control Intensive Smoothing Mask may not be the product you're looking for. Actually, this is why this mask takes the last place on the podium – indeed, it's efficacious but it runs out fast and costs a bit too much.
4. PHYTO PHYTOKERATINE EXTREME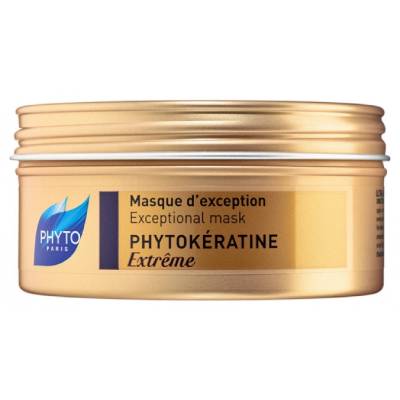 Right behind the podium there is Phytokeratine Extreme hair mask, which is a formula responsible for fixing frazzled hair. Its texture is creamy and the product itself is easy to use. Just one treatment is needed to reveal stronger and smoother strands. It's worth mentioning that this effect is just temporary and affects only the outermost layer of the hair. This means that you need to wait a little bit longer to enjoy the benefits of deep hair repair. Obviously, Phyto keratin mask reconstructs and fixes hair because it contains plant-based keratin combined with as much as 18 amino acids that bring it near the keratin that human hair is naturally built of. Apart from that, Phyto Phytokeratine Extreme formula also includes sapote butter, shea butter and baobab tree oil that gives the product the ability to protect the hair from, among others, water loss. Downsides? High price, small size, low efficiency.
5. WELLA SP LUXE OIL KERATIN RESTORE MASK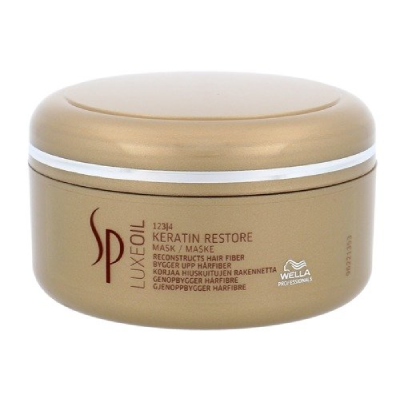 A fairly intriguing offering for those who are looking for an efficacious mask for damaged hair is the Wella SP mask belonging to Luxe Oil series. This time the price is lower, and there is more product in the jar. On the other hand, this product's texture seems to be thick, but if you manage to develop the right technique of applying this mask, e.g. to wet hair, using it shouldn't be much of a problem. What works to this mask's advantage? First and foremost the liquid keratin, which is a protein that has capabilities to reconstruct broken bonds inside hair. Naturally, there are more ingredients that constitute Wella SP Luxe Oil Keratin Restore Mask, and among them there is a plant-based oil blend that leaves hair softer, shinier and nourished. The more you use this keratin mask, the healthier and stronger your strands become. Lastly, in the long run, this product increases resistance to damage in hair.
6. ALFAPARF LISSE DESIGN KERATIN THERAPY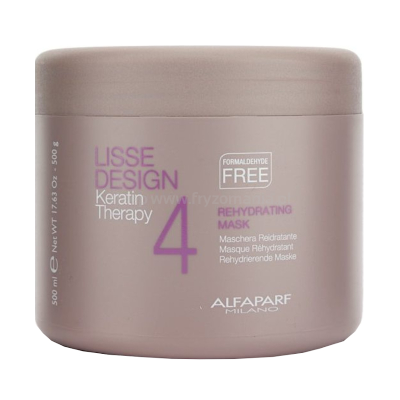 Finally, a keratin hair mask recommended as the in-salon keratin treatment after-care. Owing to the precious keratin molecules, Alfaparf Lisse Design Keratin Therapy helps you enjoy the effect of sleek hair for longer, helping the strands remain strong, smooth and thick. Can you use this product without a salon visit? Sadly, the producer doesn't give this information but you can try doing so, on your own responsibility. It's hardly possible for Kera-Collagen Complex and babassu oil to do harm to hair because both ingredients are proven to strengthen, moisturize, protect and add softness to strands.