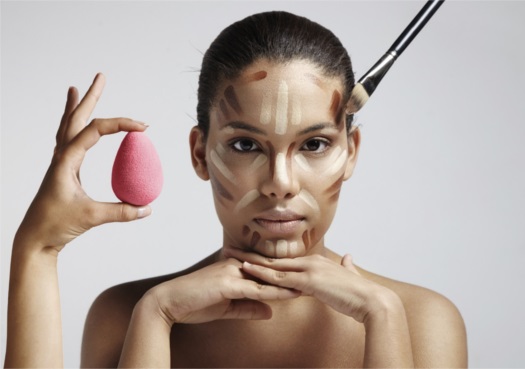 Face contouring is known for many years, however, only recently it became so popular. It is a technique used not only by professional make-up artists but also bloggers and most girls who simply like to spend a bit more time to create a perfect look. Thanks to a few tricks, we are able to conceal all flaws and enhance our face shape. If you want to know how to flatter all your features, keep reading!
The main rule of doing make-up is to achieve oval face shape. In order to do that, we improve the contours of our face, outline eyebrows and lips, and even shape of the eyes. Everything matters. If something is too narrow, too visible or unnecessarily diverts attention from the whole face, you can correct it using a powder or a bronzer. There is no need to reach for a highlighter, although it can also be useful.
HOW TO IMPROVE THE APPEARANCE OF YOUR FACE?
Double chin is easy to hide with the help of a darker shade of a bronzer. Apply it vertically along the neck. This will visually hide this little flaw, however, it is important that the product is in a natural shade and well blended.
Large forehead

is a problem of many women. Fortunately, it might be solved with a simple trick. Use a contouring powder in a cool shade and apply it on the upper part of your forehead, along the hairline. Add some of the colour on the sides above the temples. Make sure to blend it well! This way your forehead will appear shorter.

Small forehead

is an opposite situation to the one described above. We are able to correct that feature as well. In this case you will need a powder of a slightly lighter shade than the natural colour of your complexion. Simply apply it on the middle of your forehead and blend well in all directions.

Long nose

, usually pointed, unfortunately, does not look good. It might be camouflaged with the help of a slightly darker foundation or bronzing powder. Apply it to the tip of the nose and the centre of the skin above the upper lip (cupid's bow). Thanks to this method, it will not look so pointy anymore.

Wide nose

is easy to optically narrow it with a bronzer. Apply the cosmetic on the sides of the nose on its full length. Properly blended powder will not look fake and will hide the imperfections.

Narrow chin

requires emphasizing. We do not want the lips look too big. In this case, you should reach for a lighter powder. Apply the cosmetic vertically from your lower lip to the end of your chin. A light shade of the product will visually brighten the area.

Wide chin

correction requires special skills. You will need a powder or foundation in a darker shade. Apply the product on the sides of the chin (on the jaw bone). This way your jaw line will be visually hidden and your chin will appear narrower than it really is.