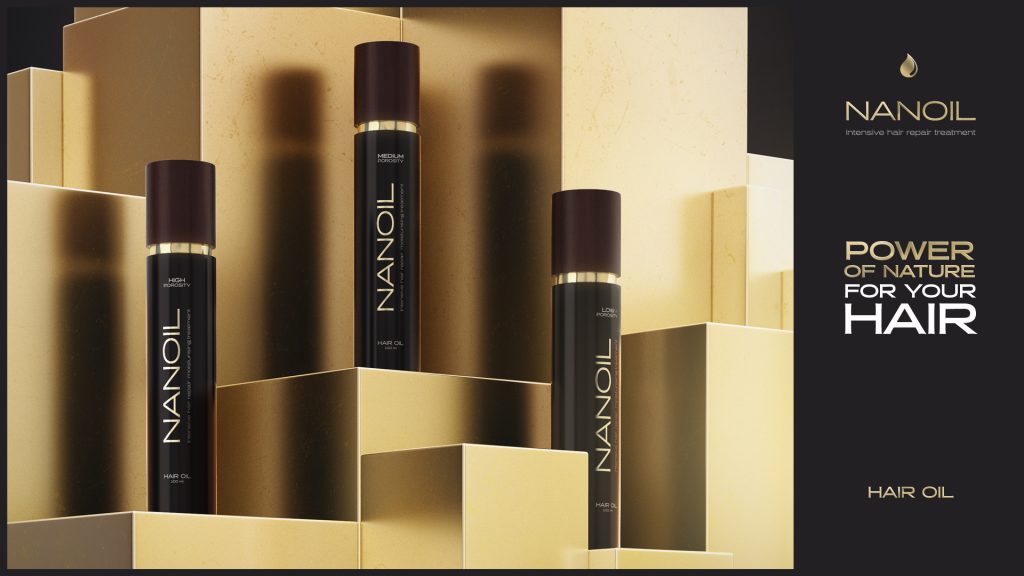 Highest-quality hair care is possible. If you truly want to take care of your hairdo but run out of time, one of three Nanoil hair oil versions is your ally. It is rich in vegetable oils of the best absorption.
Healthy hair is fully hydrated, thick and very strong. Although keeping it in such shape seems mission impossible, it is not as difficult in reality. Learn the SECRETS OF HAIR CARE.
What are the needs of your hair?
Women's most common answer to the question is: hydration and nutrients. We usually say about minerals and vitamins while referring to the nutrients. It is partly true but water is not the only thing that our hair needs. Providing water isn't enough when our hair is damaged and loses moisture three times faster than normal hair.
Hair needs essential fatty acids most than anything else. They fulfil several important roles. Most of all, they:
are the ingredient of human sebum, essential for scalp protection,
make up the hydro-lipid layer that prevents moisture loss,
bind cuticle scales.
Delivering vitamins and water is not as important as locking them inside the hair. This can be done by sealing the external hair structure. Keratin – that makes up the hair – is also crucial. When we take care of the inner keratin structure and outer protective layers, we provide our hair with full care.
HAIR CARE OF THE HIGHEST STANDARD
Nanoil hair oils bring this kind of hair care – the ideal composition of vegetable oils rich in saturated and unsaturated fatty acids. Is Nanoil better than the traditional conditioner? No two ways about it! It is silicone-free and paraben-free. It contains the best composition of oils that match hair types. It is lightweight and can be applied to the scalp. The oil works both inside the hair and on its surface. It is a perfect solution for regular hair oiling. All-natural and made with attention to detail.
The range of hair oils offers:
Nanoil for low porosity hair (difficult to style)
Nanoil for medium porosity hair (frizzy)
Nanoil for high porosity hair (damaged)
Why frizzy, damaged and difficult-to-style hair? The choice shouldn't surprise women who have at least minimum knowledge about the relation between hair structure and hair qualities. The above-mentioned features are characteristic for a given hair type. Learn about the finest quality hair care!
Low porosity hair requires support from an oil that is made of small particles. The outer cuticle layer is very tight. Oils must be rich in saturated fatty acids to penetrate the low porosity hair. Nanoil offers such oils: cedar oil, coconut oil, argan oil, shea butter, maracuja oil, babassu oil, monoi oil, cupuacu butter. They facilitate styling and tackle problems of this hair type: speed up blow-dry time, lift the roots, boost volume and protect.
It is hard to define medium porosity hair. It is somewhere between the healthiest and most damaged hair. Therefore oils abounding in monounsaturated fatty acids and made of medium-sized particles are ideal for this hair type. Nanoil for medium porosity hair is composed of such oils: macadamia oil, argan oil, marula oil, jojoba oil, maracuja oil, coconut oil. Thanks to these oils, Nanoil hair oil defrizzes, reinforces the hair, rebuilds damage and seals the external protective layer. It also enhances the appearance of your hairdo – adds shine, bounce and softness.
High porosity hair is most damaged, which entails lots of problems. Hair care routine should use oils made of large particles rich in polyunsaturated fatty acids. Nanoil offers: almond oil, argan oil, evening primrose oil, avocado oil maracuja oil, cottonseed oil. They are responsible for deep repair, stronger internal keratin structure and sealed cuticle layer. Nanoil for high porosity hair works as a strong treatment that repairs from the roots to the ends (preventing their splitting).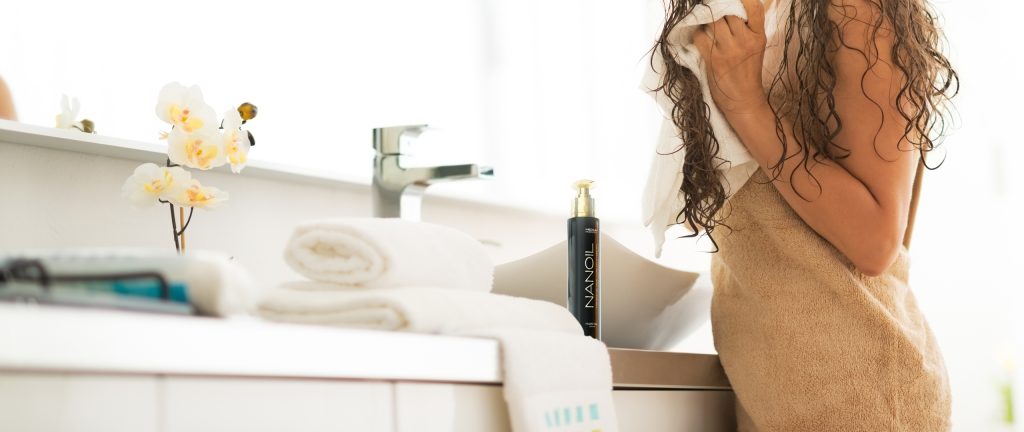 10 REASONS WHY YOU SHOULD CHOOSE ONE OF THE THREE NANOIL HAIR OILS
It conditions your hair in a professional way thanks to precisely selected natural oils.
It works inside the hair, on its surface as well as on the scalp.
You have endless possibilities when it comes to application.
It uses advanced technologies for hair growth and anti hair loss.
It combines the power of natural oils enriched with vitamins, keratin.
It is the one and only product that matches hair porosity.
It contains an additional, safe UV filter offering necessary protection.
It is nature captured in a tasteful, handy bottle.
Its main focus is the health of hair, not only the appearance.
It is an irreplaceable substitute for dozens of hair products.