Can one castor oil be different from the oils available on the cosmetic market and in the pharmacy? Of course it can! Nanoil Castor Oil is the leader among other castor oils. It might seem inconspicuous, yet it's the most effective and 100% natural castor oil. It's versatile, multi-purpose, and irreplaceable. Meet Nanoil Castor Oil and see for yourself how unique it is!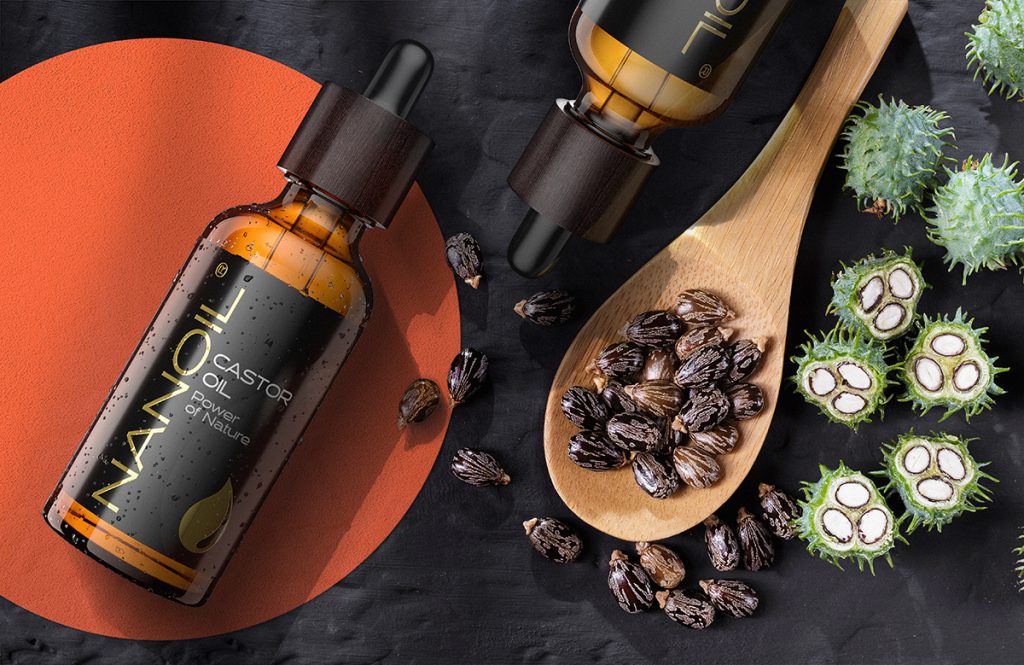 The oil is unrefined, cold-pressed, and certified by Ecocert – a certification awarded only to natural cosmetics of the highest quality. It thickens brows, strengthens lashes, and nourishes hair and nails. What makes Nanoil Castor Oil so popular?
Nanoil Castor Oil – characteristics
Castor oil is extracted from the tropical castor bean plant in the natural cold-pressing process. It's odourless, thick, and insoluble in water. It's a substance known in the cosmetics industry for years. Nanoil Castor Oil is extremely effective- the producer has equipped it with a convenient dropper to ease a precise dosage of the product.
Nanoil Castor Oil – composition
Nanoil castor oil contains up to 90% of organic fatty acids and glycerides of linoleic and oleic acids. It is a source of antioxidants that prevent skin ageing. The valuable fatty acids have antibacterial and anti-inflammatory properties that neutralise free radicals and delay the formation of wrinkles.
Castor oil is an extremely desirable skin care ingredient with strong moisturizing properties. It nourishes, lubricates and softens the skin, boosting firmness and natural radiance. Used on hair and scalp, it prevents dryness and promotes hair growth, and it's also an irreplaceable conditioner for long, beautiful lashes and strong brows.
Nanoil Castor Oil properties
The high-quality Nanoil Castor Oil is certified, unrefined, and 100% organic. It has a much lighter formula than other castor oils, so it doesn't overburden the hair or clog pores. It's a multi-purpose product that can be used in many ways.
It works as an addition to your creams, lotions, or serums. A few drops of castor oil can boost the effects of your cosmetics and deeply nourish the skin. It also works as a base oil in the OCM method (Oil Cleansing Method) which effectively cleanses the pores. Castor oil is also the most effective cosmetic in hair oil treatment, boosting shine and encouraging hair growth.
How to use Nanoil Castor Oil?
No. 1 | FOR HEALTHY HAIR
Castor oil Nanoil strengthens the hair roots to prevent hair loss – the hair becomes thicker, stronger and healthier. Rubbed regularly into the scalp, the oil combats dandruff, baldness, or psoriasis. It prevents oily scalp and has antibacterial and cleansing properties. It gently darkens the hair, improving its natural shine and resilience.
No. 2 | FOR BEAUTIFUL LASHES
Nanoil Castor Oil can replace your brow and lash conditioner. With long and systematic use, it can significantly speed up the growth of brows and lashes, it thickens, darkens, and lengthens them.
No. 3 | FOR BEAUTIFUL SKIN
The cosmetic is also recommended in facial care. It's the main ingredient in mixtures for the oil cleansing method. Thanks to its antibacterial properties it banishes skin imperfections. It's perfect for oily and acne-prone skin, as it regulates sebum production and speeds up wound healing.
No. 4 | FOR STRONG NAILS
Castor oil works well as a nail conditioner. It's recommended especially for brittle, dull and weak nails with a tendency to split. The cosmetic supports the regeneration of nails, hardens the nail plate and restores its elasticity. You can achieve healthy and strong nails that will finally stop breaking.
Nanoil Castor Oil is a universal and multi-purpose cosmetic that is widely used in cosmetics. By getting the 100% natural Nanoil Castor Oil, you are guaranteed the highest quality from a proven source. Go to nanoil.us and take your skin care to the next level.