What makes thermal protection so important? Exposed to high temperatures, hair loses resources of water, getting stiff, dull and brittle. Its condition is worsening. Thermal protection sprays are the new must-have hair products. We often do our hair in a rush, blow-drying with hot airstream and then curling or flat-ironing. There's no need to worry, though. Give your hair the necessary protective barrier – with Nanoil Heat Protectant Spray you won't have to give up on your favorite heat-styling tools.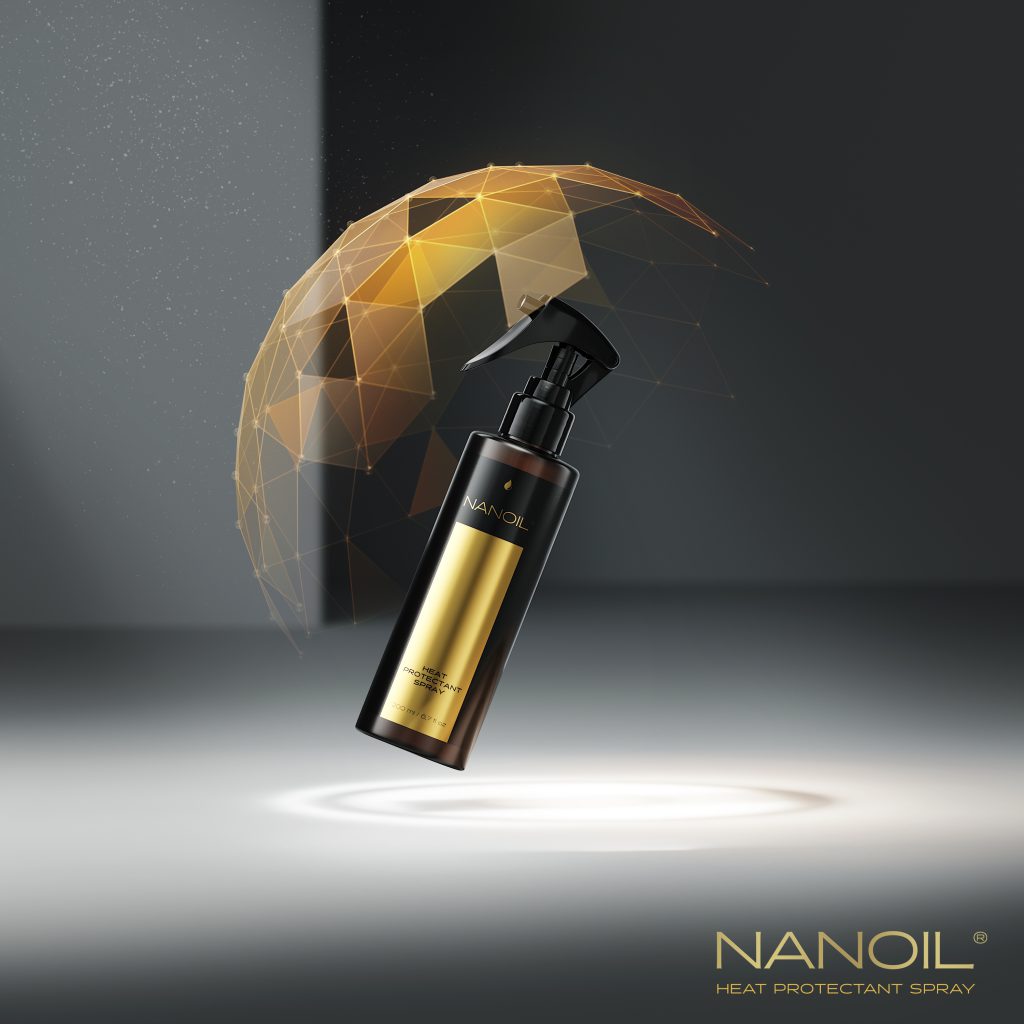 The most effective heat protection with Nanoil
High temperatures cause cuticle scales to open up and consequently hair suffers because it loses water. Thanks to a weightless heat protectant from Nanoil, your hair will be secured from the destructive effect of temperatures (up to 430℉/220℃!). The product envelopes the hair with an invisible protective layer which doesn't weigh hair down. It is suitable both for low and high porosity hair. On top of that it speeds up regeneration, nourishes, moisturizes, and keeps hair color from getting dull due to the sunlight.
Components in the heat protectant by Nanoil
The formula is the greatest benefit of this spray. The list of ingredients is short and abounds in nutrients – there's no room for hair-damaging substances. The product is mostly made up of natural silk proteins which enhance hair revitalization, add smoothness, nourish and keep our hair brilliantly shiny. The Nanoil's hair primer also includes vitamin E which gives this protective spray an extra conditioning effect.
Benefits of Nanoil Heat Protectant Spray
it guards against temps. of up to 430℉/220℃
it keeps hair from getting dry
it reduces frizz and static
it brings smoothness and moisturizes
it nourishes and helps hair regenerate
it protects from the wind, frost, sun
it makes hair easy to detangle
it leaves hair softer
There are even more benefits, though! Nanoil Heat Protectant Spray is incredibly efficient. The simple-looking bottle comes with an atomiser which makes the product easy to spread through the strands. You just need to spray it on every time you style your hair and… that's all! Feel free to use it any time, day and night, on dry or wet hair, several times a day – it depends on your needs. Blow-dry and style your hair as you like with the Nanoil heat protectant spray!
Purpose of Nanoil Heat Protectant Spray
Nanoil Heat Protectant Spray is made for styling hair using a straightener, curler or dryer. It is effective at guarding the hair from extreme temperatures as well as external conditions. Nanoil spray keeps hair straight, smooth and shiny for a long time. Regular use will let your strands stay nourished, healthy and fabulous. The product manages to tame the most unruly hair, making sure your dream hairstyle keeps frizz-free all day.
Where to purchase the Nanoil heat protectant?
We recommend getting it through the official site www.nanoil.us where you can make your own, unique set for hair conditioning and styling. Ordering more products, you can count on attractive discounts and special offers.