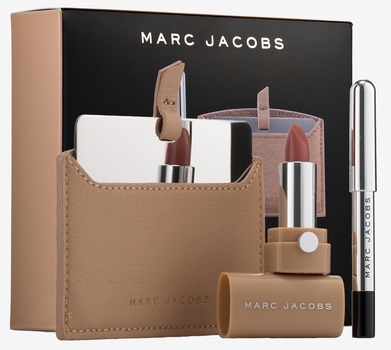 Marc Jacobs knows how to make women happy. The Nude(ist) is a set of mini cosmetics, which author is a famous fashion designer and it will certainly astonish many women. There is a small two-sided mirror, lipstick New Nudes Sheer Lip Gel and eye pencil Highliner Gel Eye Crayon. The entire thing is wrapped in a leather case.
Lipstick New Nudes Sheer Lip Gel has creamy consistency and is really easy to apply on lips. The more layers of cosmetic the shade becomes more intense. What is more, it is almost indiscernible on lips, what provides comfort of wearing it. Moreover, this cosmetic moisturises and makes lips glossy and has vanilla scent. Set from Marc Jacobs is equipped with lipstick in Role Play shade – dusky pink, which perfectly blends with colour of lips.
Eye pencil Highliner Gel Eye Crayon has a waterproof formula. For this reason, for make-up removal choose good quality bi-phase make-up remover. The cosmetic has soft, gel formula easy to apply and blend with eye shadows. Remember that right after application of eye pencil you have to thoroughly rub it. In set from Marc Jacobs are cosmetics in Blacquer shade to underline eye lashes line and the colour of an iris.
The offer from Marc Jacobs holds seven shades of New Nudes Sheer Lip Gel: starting with light pink, through orange to light brown. This cosmetic consists of natural ingredients like: monoi butter, myrrh extract and vitamin E. On the other hand, Highliner Gel Eye Crayon is available in 25 shades of: brown, green, pink, blue, beige, grey and violet. In the composition of this product are among many: vitamin E, synthetic waxes, rose extract and natural pigments. Ingredients present in lipstick and eye pencil condition, nourish and prevent irritations.