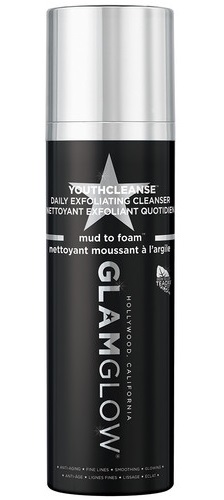 No more wrinkles or pigmentations? Face so beautiful and flawless that everyone will admire it? Yes, now it is possible! GlamGlow brand offers a perfect solution to those problems. We are talking about the Glamglow Youthcleanse Daily Exfoliating Cleanser – an exfoliating foam cleanser.
Youthcleanse Daily Exfoliating Cleanserfrom GlamGlow is designed for both, men and women. It has exfoliating, smoothing and cleansing properties. It gently removes all dead skin cells, dissolving cellular connections and stimulating the production of new ones. What is more, this product is perfect for brightening pigmentations, reducing fine lines, rejuvenating and moisturising the skin. Additionally, Youthcleanse Daily Exfoliating Cleanser works also as a make-up remover, and cleanses your skin from sebum and all impurities that have accumulated on the skin surface during the day. Owning to the high content of natural ingredients, your complexion is one hundred percent nourished and nurtured. Moreover, in the list of ingredients of the GlamGlow product you will encounter: powdered ginseng leaf, green tea, kaolin clay, fruit and flower extracts and natural oils.
How to apply Youthcleanse Daily Exfoliating Cleanser? First of all, remove your make-up with your favourite micellar water, lotion or gel. Secondly, squeeze one or two pumps of the product on your hand and combine it with a little bit of water. This way the product will transform into a gentle and effective foaming lather. Next, apply the product on the face and massage in circular motions, avoiding the area around the eyes and mouth. Then, rinse it with warm water. If you feel the need, you might repeat the whole procedure once again. Thanks to this kind of care, your facial skin will be perfectly cleansed, hydrated and nourished.
Youthcleanse Daily Exfoliating Cleanser from Glamglow comes in a container of 150 grams capacity. The product is intended for everyday use. One box should be enough for dozens of applications. However, keep in mind that before applying the product on the face, you must wash your hands thoroughly. Additionally, do not forget to securely close the bottle after the evening cleaning treatment of your skin.