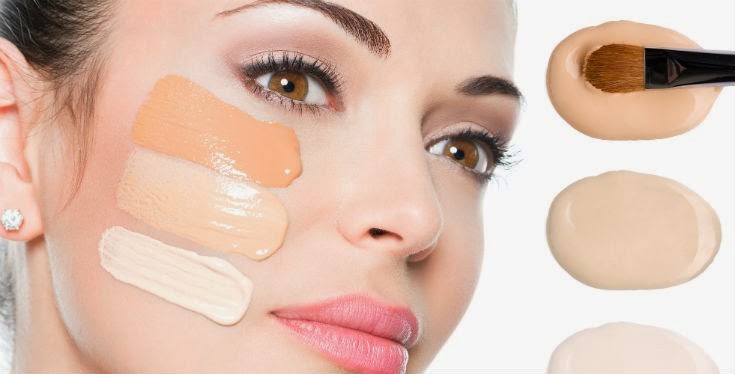 The times when under the name "foundation" there were four shades of oily ointment, which our mothers mixed in manner of trial and error to match their skin complexion, are long gone. Currently the market is filled with foundations with various texture and action as well as wide colour gamut. It happens that we feel lost in this maze of information and multitude of all kinds of products. So, how should you choose the right foundation and not lose your mind?
1. Do not follow the opinion of the manufacturer nor your closest friend. Each one of us has different skin type and choice of the right cosmetic is very individual matter. You should also remember that everyone likes different form of foundation – one person prefers mineral foundations, while the other will be more keen on sateen mousses for face.
2. It is best not to test the shades of foundation in the dragstore's light. Besides, application in a long streaks across the jaw line, through neck to the clavicle maybe a bit troublesome. It is much easier to do this at home. The dragstore's shelves are usually equipped with small samples. You should take a drop of each type and colour that you are interested in. For that you may find helpful small plastic packagings, for example after eye shadows. Place small amount of the chosen foundation in it and remember to write down the type and shade of the cosmetic you will test.
3. Test foundation at home in the natural light, e.g. by the window. This way you will see its true colour in the daylight. It is best to choose three foundations with similar tones and apply them alongside on the skin with a line starting at the jaw line and ending on the clavicle. The foundation should match not only your skin, but also shade of the cleavage. Choose your foundation accordingly to the general SHADE of skin and cleavage rather than the COLOUR of skin complexion. And so, you need to check if your skin tone is cold (choose foundations with pink shade), warm (you need foundation with yellow shade), or a mix of the cold and warm tones (the foundation has to have olive green shade). Furthermore, there are plenty of neutral shades matching various skin complexions. You may want to check if this gamut holds a foundation that perfectly synchronises with your skin.
4. If you found more than one foundation matching the colour and tone of your skin, you have to check which one of them your skin will love. To do that, perform make-up with the chosen foundation and observe how your skin behaves during the day. Take into consideration its durability, how it reacts with other cosmetics you use (if it doesn't change colour). After all the tests, choose foundation that takes first place in all aspects.