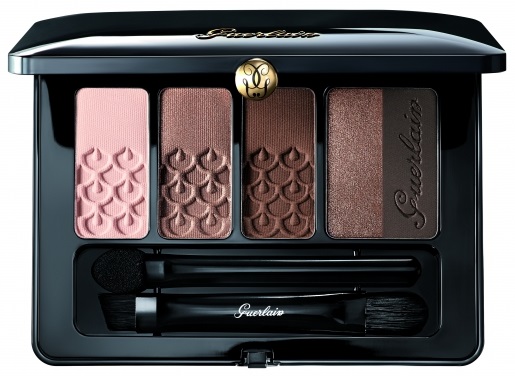 There wasn't such a palette ever before! Thanks to base, smoky and nude eye shadows with shimmering particles, you can create make-up worthy the jealousy of your friends. What are we talking about? It's La Palette 5 Couleurs from Guerlain.
Eye shadow palette Guerlain Le Palette 5 Couleurs is a perfect solution for women who value elegance and beautiful appearance. The cosmetic consists of light particles for eyes to appear more open and brighter. All eye shadows are highly pigmented, what will allow stunning eye make-up. On top of that, cosmetic is non-flaking and crease-resistant. Eye shadows last on skin for several hours. They are easy to apply and blend with other make-up cosmetics, like eyeliner or eye pencil.
New palettes from Guerlain contain five eye shadows: one base, two nude shades and two smoky shades. These shades feature matte, satin, and metallic finishes. You can use them for smoky eyes make-up. How can you do that? With applicator, administer chosen shades then blend them with the brush attached to the cosmetic to create the most beautiful look. Do you prefer nude make-up? On the central part of the eyelid, previously covered with base shade, apply darker colour. In the inner eye corner apply shade placed in the central part of palette from Guerlain. Or maybe your favourite make-up is a smoky eye? Start with application of base shade. Then administer the darkest shade to create effect of smoky eye.
Eye shadows Le Palette 5 Couleurs from Guerlain are placed in a palette with a click lock. On the inside of the packaging is a mirror and one applicator equipped with sponge and a brush. In drug stores are available six shades of the cosmetic: pink – violet Rose Barbare, beige – brown Tonka Imperiale, gold – brown Coque D'Or, beige – grey L'Heure de Nuit, grey – blue Apres L'Ondee and grey – pink Bois des Indes.