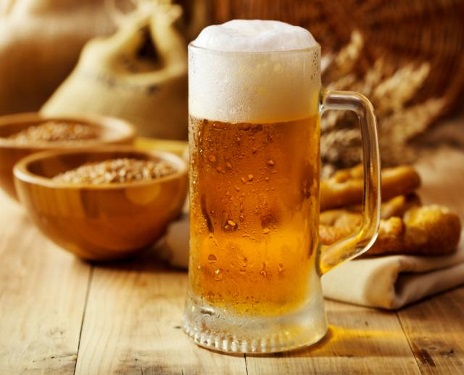 Probably most of us were pretty surprised when heard about beer hair rinse or a beer bath, for the first time. Beer is considered to be men's hobby and an integral part of enjoying a match. It is no wonder that women are rather sceptical when it comes to beer beauty treatments. Completely unnecessarily because, as a matter of fact, beer is a great cosmetic that can be used externally! How? Let us introduce four effective ways to use beer in a homemade spa.
It is worth remembering that beer as a cosmetic has been used for many years. Its valuable properties have been valued for ages. There are various ways of using it in a home spa. You can easily prepare a hair rinse, hair mask, facial mask or even take a beer bath! However, you must bare in mind two essential matters when it comes to using beer in your daily care.
The bottle of beer must be opened to loose its fizz, a few hours before each use. Thanks to this, the aroma of alcohol will evaporate, but the beer itself will not loose its valuable properties.
In your care, only natural beer, produced in small breweries without unnecessary preservatives, fragrances and flavours, should be used.
BEER BATH
These are one of the most popular treatments you can encounter in every luxurious SPA around the world. What is more, they are relatively expensive because they provide a special bath beer, which is enriched with floral, herbal extracts. However, the good news is that you can easily proceed with such beauty care at home! The only thing you must do is to buy a good quality beer and add to a bath filled with warm water. The amount of beer is not specified, it depends on your personal preference. Such beer bath has cleansing, moisturising and firming effects. In addition, effectively eliminates muscle tension and supports the fight against acne prone skin.
BEER HAIR RINSE
This easy and pleasant procedure will effectively strengthen your hair. However it is very important to remember about the proportions. You must combine water and beer 1:1. If you overdose the amount of beer, your hair may become too stiff. Homemade beer rinse will effectively discipline the hair and prevents it from frizz. Use after each hair wash, simply pour over your hair.
BEER HAIR MASK
Beer will be equally suitable as an extra ingredient in hair care. This homemade hair mask will effectively improve the appearance of your hair as well as tone, soften and prevent brittleness. Just mix half a cup of beer with one egg yolk. Apply the blend to the hair and leave in a warm towel for about half an hour. After this time, wash your hair thoroughly.
BEER FACIAL MASK
This facial mask made with beer is especially recommended in the care of oily and acne prone skin. Homemade beer mask nourishes, moisturises and smooths the skin. Just dissolve one to two tablespoons of fresh yeast in a small amount of beer, and then add a teaspoon of honey. Such mixture apply to your face and neck, and after 20 minutes wash off with lukewarm water.